IMPACT RESISTANCE TESTING

RAILWAY, AIRCRAFT, AUTOMOTIVE AND MACHINE-TOOLS
THE "BANC NATIONAL D'EPREUVE" CONDUCTS IMPACT RESISTANCE TESTING
FOR RAILWAY, AIRCRAFT, AUTOMOTIVE AND MACHINE-TOOLS APPLICATIONS
A ONE-OF-A-KIND TEST LABORATORY IN FRANCE
Boasting over 200 years experience in the arms and ammunitions sector, Banc National d'Épreuve has its own ballistic testing laboratory, a one-of-a-kind in France and European benchmark.
TEST EQUIPMENT
3 Pneumatic launchers propelling different projectiles (standardized fragments, ice blocks, gravel, shrapnels, hailstones, gelatine cylinders, metallic impactors) up to 180mm diameter.
Velocity acquisition systems by light screens and Doppler radars.
High speed camera: mega-pixel resolution at 7,500 fps and a maximum of 775,000 fps.
Conditioning of samples from -70 to 300°C and 10 to 98% relative humidity depending on the temperature.
TESTED MATERIALS AND PRODUCTS
Side and front windows, driver cabs, paints and coatings, protective boxes, axle sections, windscreens, wipers, batteries, protective covers, composite structures, surface coatings…

Member of :
---
ISO 17025 ACCREDITATION
Banc National d'Épreuve is accredited by the LABORATORIES section according to the NF EN ISO/CEI 17025 standard and COFRAC rules of application under n°1-6348 for a numerous kind of tests .For more information go to: www.cofrac.fr/en/hom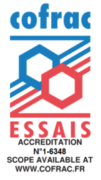 ---
For more information :