THE "BANC NATIONAL D'EPREUVE" PERFORMS BALLISTIC RESISTANCE TESTING IN THE LAND, AIR-LAND AND SEA FIELDS, ON CONSTRUCTION PRODUCTS AND PERSONAL PROTECTIVE EQUIPMENT

A ONE-OF-A-KIND TEST LABORATORY IN FRANCE
Boasting over 200 years experience in the arms and ammunitions sector, Banc National d'Epreuve has its own ballistic testing laboratory, a one-of-a-kind in France and European benchmark.
TEST EQUIPMENT
Indoor and outdoor firing ranges of 15, 30, 100 and 300 m.
a wide range of projectiles from .22 LR to 25x137mm calibre up to 1800 m/s.
velocity acquisition systems by light screens and Doppler radars.
high speed camera: mega-pixel resolution at 7,500 fps and a maximum of 775,000 fps.
yaw measurement by orthogonal photography.
conditioning of samples from -70 to 300°C and 10 to 98% relative humidity depending on the temperature.
a 5.30 m height drop tube with velocity monitoring to conduct stab and spikes resistance tests at different levels of energy.
impact attenuation tests according to NIJ Standard-0106.01.
TESTED MATERIALS AND PRODUCTS
Metallic armour, composites, ceramics, glazing… used in the protection of armoured vehicles, aircraft and warships. Bullet-proof glazing, windows and doors, shutters, safes, transfer trays, sentries, miradors… used in the protection of sensitive buildings and sites. Bullet and stab-proof vests, inserts, goggles, helmets, visors, shields and riot gear used to protect soldiers, law enforcement officers and security staff.

Member of :
---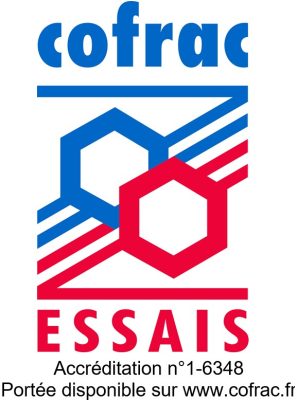 ---
For more information :
Delivery hours: Monday to Thursday: 8h00 AM >11h30 AM and noon >3h30 PM . Friday 8h00 AM > 11h30 AM .